"THREAD OF EVIL"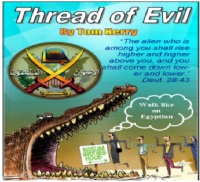 The alien who is among you shall rise higher and higher above you,
and you shall come down lower and lower."
Deut. 28:43
Mr. Tom Kerry goes into areas of Biblical Understanding and prophetic insight that is happening right before our eyes TODAY.
Please complete the following information:
* Required Field

Request your FREE, Post-Paid DVD on
Handwriting On The Wall
Order TODAY

The Thread of Evil

Supplies are Limited!
Thank you for taking the time to visit our website.
Please allow 2 - 4 weeks for delivery.
Sign Up for Our
OUR NEWEST ADDITION TO
GOD'S UNCHANGING WORD
AMERICA FREEDOM MESSAGE
Click on the Image
Watch all our videos on YouTube from your Smart Phone. Just download the YouTube App and search for gucw1. This will bring up our current list of videos for your viewing on the go.
Click Here
See Our Latest eNews Alert Messages
Be notified of
page updates